Mouldings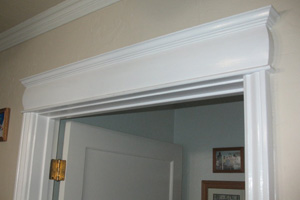 Mouldings add so much to the interiors of homes and offices. R & R Hardwood offers a full range of decorative hardwood and MDF mouldings. We have baseboards, window casings, chair rails and crown mouldings. Our custom curved mouldings and archways have been installed and admired across southern California.
We can help with the selection of styles and wood species as well as take accurate measurements to get your project started. We also offer wainscot paneling if you want to add height and style to your wall covering.
Adding decorative mouldings to your walls, doors, windows, or base will add new style to your room while at the same time hiding gaps and imperfections.
If you want to install new mouldings with new or refinished floors, we can handle that work, too.
Whether you need that special replacement moulding in a single room or you want to update your whole house, we can help. Just call our office today.